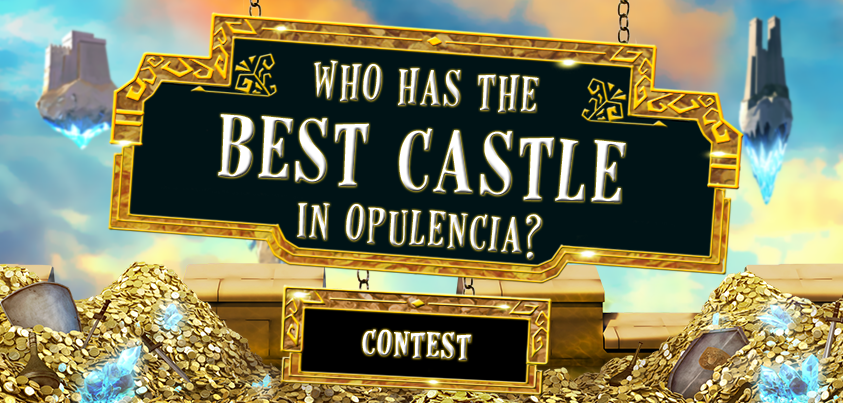 Hello Opulencians,

Yesterday, we gave you the means to build the best Defense in the whole Kingdom. Now, we are challenging you to show it!

Who has the best Castle in Opulencia? Well, that will be entirely up to you!

This new Contest begins today, and will end on March 28th at 12PM EDT. It will reward one of you with the privilege of making your Castle an Official Castle in the game!
The Contest
The Contest will be divided into two Phases:

      - In the first phase, you will need to build your Castle, and have it defeat as many Attackers
        as possible.

      - In the second phase, the 10 Castles that have defeated the most Attackers will be
        selected, and you will be able to vote for one of them.

The winner will have his or her Castle integrated officially in the game, along with wining an Ultimate Diamond Pack!

Now let's dig into the details of the first Phase…
Phase 1
Until March 21st at 12pm EDT, you will have to follow the following steps to participate in the Contest:

     1) Register on the Application with your Username and login Email (you can like us too!)

     2) Create a kick-ass Defense setup. The level doesn't matter!

     3) Invite your friends, your colleagues, your brothers and sisters, your pets, your mom, the
          whole world to attack your Castle! Practice Attacks will count toward the total, so really:
          Invite your friends, and share your In-Game Name everywhere! (to prevent farming, up to 5
          attacks from the same Attacker per hour will be counted per Castle).

And that's it. On March 21st at 12pm EDT, we will see which Castles have defeated the most Attackers among the participants, and the ten best will be selected for the next phase!
Phase 2
Starting on March 25th, you will be presented with the Top 10 Castles of the past week in our Application. You will be able to try them, and to vote for them.

The final winner will see a copy of his/her Castle integrated in-game that will forever shine as an Official Castle in the kingdom of Opulencia!
Rewards
As stated above, the winner will have his/her own Castle integrated in-game, and will also receive an Ultimate Diamond Pack.
The 9 selected but non-winning Castles will receive a Trio Combo Diamond Pack.

Additionally, a sweepstake will be held at the end of the Contest, and 5 randomly picked players will win a Trio Combo Diamond Pack!
What's next?

Well, get to it Opulencians!

Build your Castle, invite as many people as possible to attack it, and become the first player in Opulencia to have their Castle officially integrated in-game!