It is time.
My very dear Opulencians,
Today is the last day of our Closed Beta, and our last Update on the Road to Open Beta. This past few weeks, we have been through a lot: we have presented our new Defense Mode, the Open Creation. There was an unexpected Progression Reset. We introduced Lootable Mines, New Victory Conditions and Leagues to the game. We revealed to all of you our brand new Monetization system, along with our new Hero Progression. We finally gave your more details concerning the Runaway and now, here we are.

What is left to say? Well... a lot. This is just the beginning. We have repeated it through our previous updates, but all of the changes we have recently brought to the game are actually only the foundation of something much, much bigger that we want to create. And we want to create it all together, hand in hand with you guys and all of the new friends that will join us with the Open Beta. So where are we headed?
The Future of Opulencia
First and foremost, we really want to emphasize how important balancing our game and continuing to enhance our core features is to us, and how we will dedicate a lot of time and energy to making sure the game is both fair and fun for everyone. Both are on-going processes, and with every new update we will rebalance and keep on improving our game due in large part to your feedback.

While we have hinted about it on our forums, Crafting is something we have wanted to do for a long time. Through looting ingredients during your Attacks (or purchasing them via the suitable Machinery), and combining these ingredients with Creatures, Weapons, or Gear, we want to allow you to go even further in the possibilities of customization and evolution of your experience.

Melting legendary pieces of gear together to create loot of yet-unfathomable Epicness? Check. Fireproofing your legion of Snotters? You betcha'. Dying your favorite pieces of Armor to the color of your choice? Sure. These are but a few options we are still considering at the moment, and we intend to go even further than that.

We have been asked the question several times: what is the Story of The Mighty Quest for Epic Loot? And we have always answered the same way: the Story of our game is the Story of our players. As you assail one another, battling for more Crowns, Gold and Loot, you are already writing our Story.

But we want to take that one step further. With the Open Beta tomorrow, we are opening the big Book of Opulencia, turning the first page and we are already writing the prelude to our Story. Very soon, we will turn that page, and get even more serious in our writing: the first Chapter of the History of Opulencia will begin.

Chapters will be limited time events where players will have individual and common goals to achieve. They will reveal more of the Story of Opulencia and of course, you will play the main role in how the story unravels!
But that is enough detail for today! Rest assured, more will come very soon, and you should start hunting for hints in all of our upcoming communications. In the meantime, we would love to hear all of your ideas and suggestions concerning these 2 new features, so we have created a forum thread just for that:
Final Note for our Closed Beta Players
We wanted to take this opportunity to one more time express how lucky we have been to have you as our Community. Our Closed Beta has been quite an adventure, from one end to the other. We have exchanged, debated, evolved all together. You reacted, commented and advised. We tried our best to listen, understand and progress. And in the end, we all played, played and played. And we LOVED IT!

So that is why, in the name of the entire staff here working on The Mighty Quest for Epic Loot, we wanted to tell you something once again:

But, hey, words are only words, right?

So we decided to express our gratitude in-game too. When Open Beta goes live tomorrow, all of our Closed Beta and Alpha players will receive the following:

               - An exclusive Pet, Nuggles!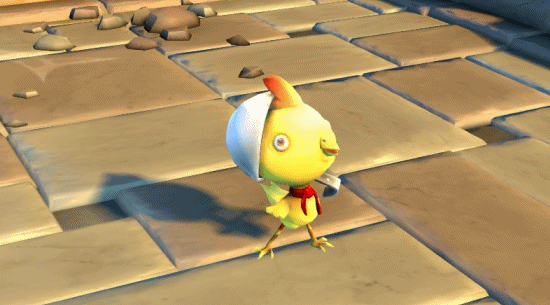 - An exclusive Costume, the Chicken Hat!
               - And your very own exclusive Profile Picture!
These items will forever remain exclusive to our Closed Beta players!
It may take a bit of time to upload them unto all of your accounts, so please be patient.
Conclusion of the Closed Beta
To conclude this News, we wanted to enjoy these last few moments of relative 'quietness' with you all. Let's reminisce a little bit, shall we?
What has been your favorite moment during our Closed Beta?

Was it when you literally smashed our 10,000,000 Chickens objective during our second Open House?

Was it when we started introducing new Castle Themes to the game?

Was it when Sir Painhammer was declared the Most Popular Hero and decided to announce our Open Beta during our last Open House?

You tell us! Leave a comment, and the team here will make sure to do the same.

Now, onward we go!